Photographer Josh Hydeman has always enjoyed the obscurities in life — the places, sounds and visuals that most people overlook. He reaches for cult music and films, and he seeks out hidden, unknown spaces in nature. "I love things that go off the radar," he says. "I think I've always been an artist, so I like to point my finger at things that are obscure; things that are special."
A native of Massachusetts, Josh studied sound at The School of the Museum of Fine Arts at Tufts University in Boston. While working on an interactive sound installation in 2003, he spent time exploring a massive underground construction project known at the Boston Big Dig. He packed up his mics and recorders and ventured down long ladders into the urban abyss. "The sound was super echoic," he says. "It was so otherworldly. I really connected with being in a big void like that."
When Josh was presented with an opportunity to design synthesizers with a fellow artist in Portland, Oregon, he packed his bags and headed west. He says, "I definitely moved for a business opportunity, but I was also drawn to how beautiful Oregon is." His lifestyle quickly transitioned from frequenting Boston bars and music venues to a more nature-driven change of pace. Around this time, he decided he wanted to try to recapture that reverberating, underground sound that he had heard in the depths of the Big Dig.
He considered finding a large empty space or a grain silo, but it dawned on him that a cave might work. After a quick Google search and coaxing a couple of friends to join him, he found himself in a deep cavern on Mount St. Helens. "There was something about my experience traveling through that cave," he explains. "Completely underprepared with two handheld flashlights with almost-dead batteries; never knowing when the cave was going to end; the way the light was hitting the walls and the drippy sounds … I was completely hooked."
And just like that, he spent less time experimenting with sound and more time exploring caves. He bought a digital camera and a few flashes and began documenting the wonder he experienced in the darkness. "I thought about very few things besides photographing those spaces," he recalls.
The more Josh squeezed himself and his camera gear through the tight crevices of remote caves, the more he thrived. "I'm someone who excels when I'm in an immersive environment … the more immersed I am, the happier I am, the better I am at creating," he explains. "With caves, it's really easy to cut out all the other noise. You have no cell phones, there are no computers, there's no sounds except the dripping of water or a creek running by. It really allows you to be in the moment."
With caves, it's really easy to cut out all the other noise. You have no cell phones, there are no computers, there's no sounds except the dripping of water or a creek running by. It really allows you to be in the moment.
Josh's dedication to the craft is evident in his drive to power through cold, dark, wet environments not only for himself, but for the cavers willing to join him on his projects. The trick, he says, is to convince them that they're not cold when they're shivering, and even if they're tired, hungry and ready to go home, the adventure — and the photos — will be worth it.
No one can argue that his projects require grit. It once took him five days to get a shot — he had to scout, stage and haul gear 2,000 feet underground, as well as orchestrate the logistics with six other people, two of whom were on ropes. "There's no rational reason that anyone would want to spend a lot of time in caves. It's a complete obsession," he says. "It's totally miserable, uncomfortable, frustrating. You want to just tear down a wall at times but then when your lighting finally lines up and you have the right look on the person's face or the right moment happens, there's no better feeling."
His unique and vivid images of the wild, alien landscapes of caves have not gone unnoticed. In 2016, he was awarded first prize in a photo contest held by the National Speleological Society. He also documented the Western Hemisphere's deepest cave, Mexico's Sistema Huautla, during a five-week assignment for National Geographic Magazine.
He says it was a dream come true, "not only because it was for a magazine of that pedigree, but it was a pretty hardcore expedition in one of the deepest caves in the world … basically an underground Grand Canyon."
When Josh isn't capturing images of vast subterranean landscapes for National Geographic and other clients like Outside Magazine, Travel Oregon and more, he's at home with his girlfriend and their dog, Rex, at their cabin in the Columbia Gorge. "We live in five acres of trees. We can't see our neighbors. We hear birds, we hear the wind. We're just down the road from so many hiking trails and waterfalls," he says. Plus, right in his backyard, Mount Hood is home to another type of cave: glacial.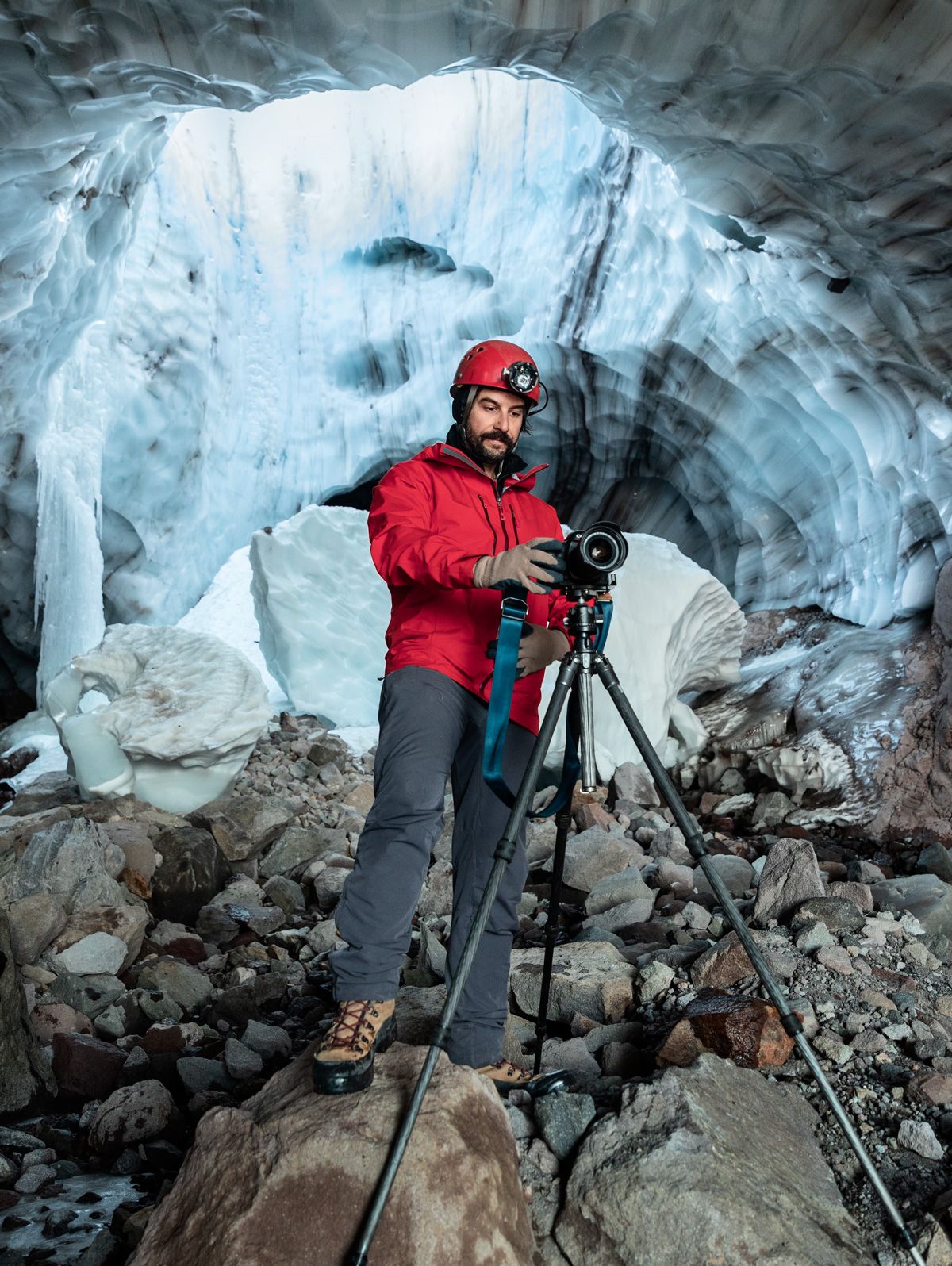 Josh captured one of his favorite photos on Mount Hood in the summer of 2015 — amid a spectrum formed by water spray and rays of light, the sunset illuminated the blue ice with a deep and stirring crimson. "It's dangerous to be in a glacier cave because the beauty is so distracting," he says.
But as he's explored these ethereal ice caves, he's also watched as they've melted, crumbled and collapsed. He adds, "Taking a photo in a place that you know won't be there next year — and it's been there for, who knows how long, maybe thousands of years — is like putting your hand in the creek and seeing the water flow away."
Josh's pursuit of these mysterious and sometimes deadly obscurities doesn't seem to be slowing down, and there are always more netherworlds and icy caverns to explore. "When you start learning about caves and you see how many there are," he says, "it changes the way you think about not only the landscape, but the way you think about wilderness."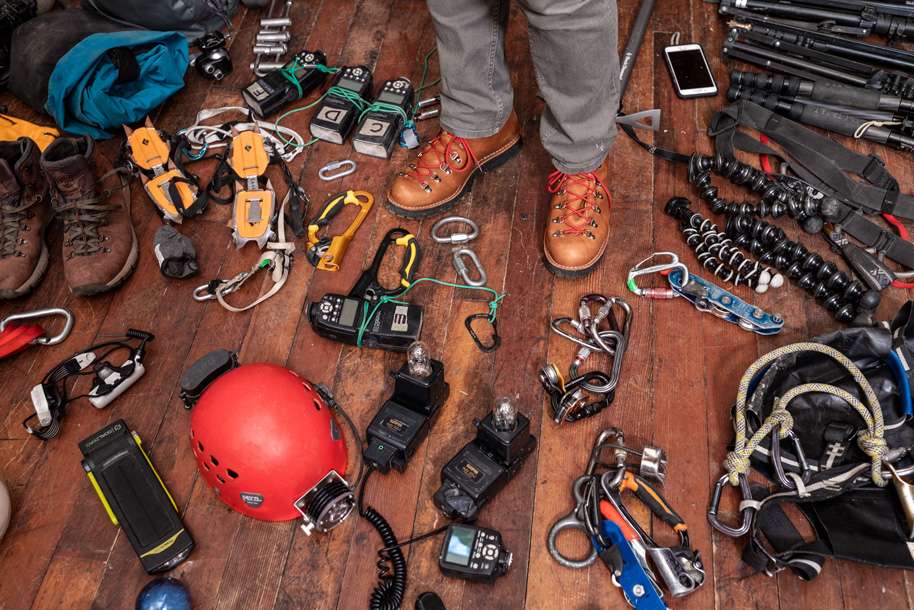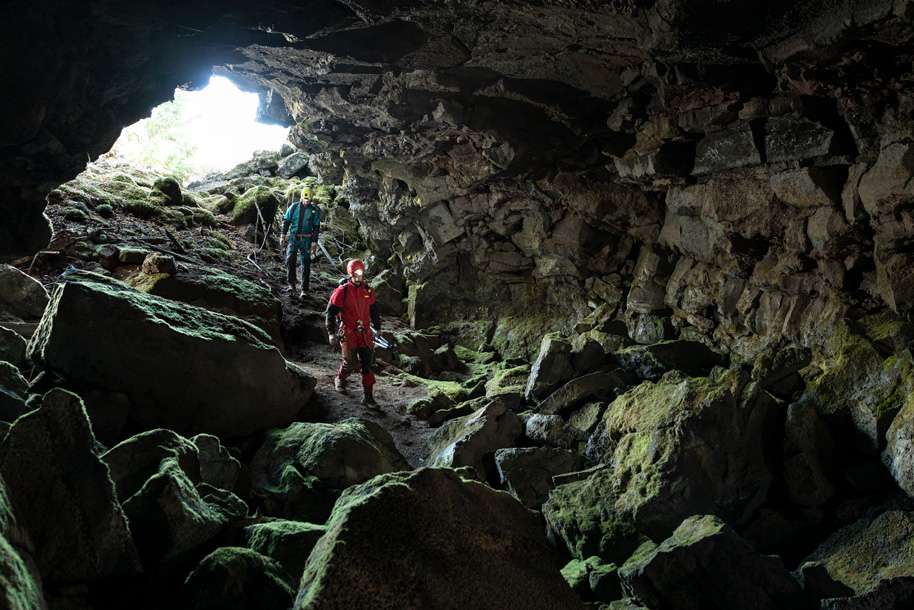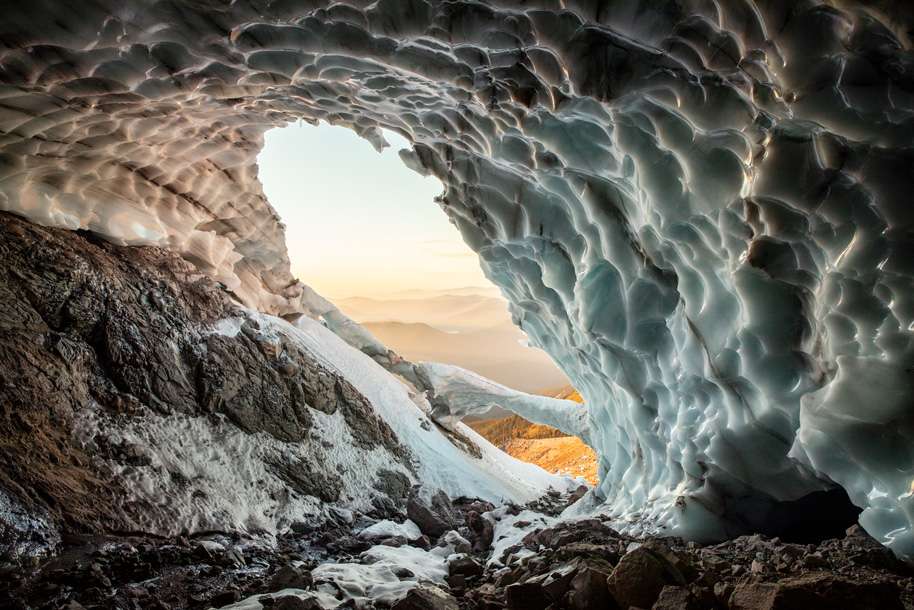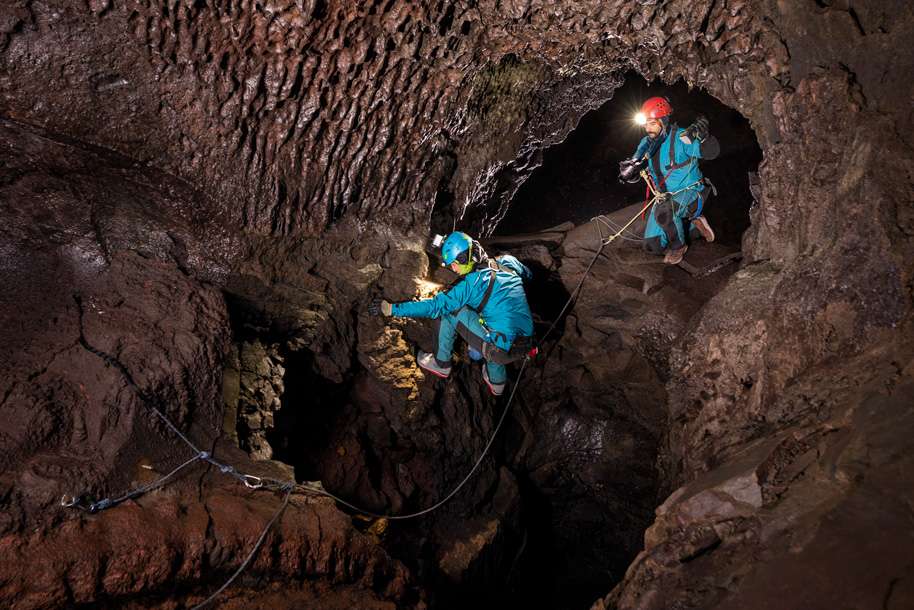 Continue Reading