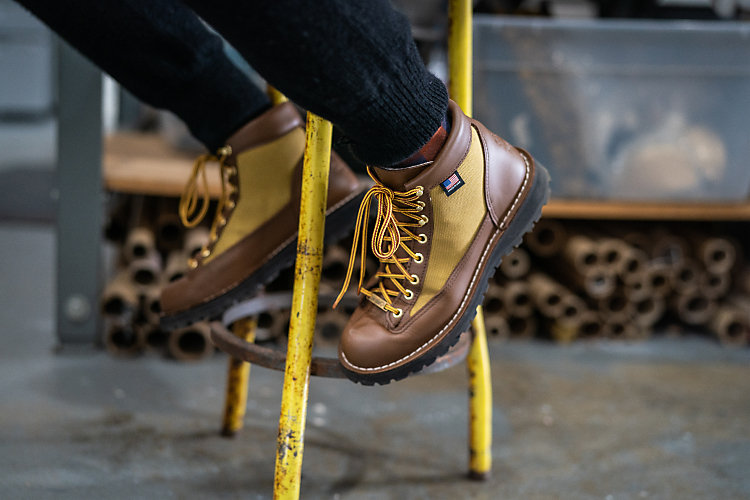 Tips to help you get acquainted with your new investment
We build footwear for their intended use. You'll find our styles fit differently depending on how they should perform in the field.
To test the fit of your new boots, wear them inside your house.
Hike & Lifestyle Footwear
Snug on the sides. Right out of the box, your hiking boots should feel a little snug on the sides of your feet to minimize friction side-to-side.
Room in the toes. There should be a little room in the toes, make sure they don't touch the end of the boot when standing with your full weight on one foot.
Heel doesn't slide. Make sure your heel doesn't slide up the back of the boot substantially when walking around.
No pinching. There should not be any pinching while walking around in your new boots. If there is some at your big or little toe, you may need a wider width or a larger size.
Slightly roomy. For more casual wear, the fit may be slightly roomier all around.
Work & Uniform Footwear
Match your foot shape. Work boots should match the anatomical make-up of your foot, widening slightly in the toe-box for a secure platform to stand on.
Comfort, cushion, and support. Right out of the box, you should feel comfort, cushion, and support underfoot for long days on your feet.
Slightly stiff at first. The boots may be slightly stiff or snug right out of the box and should relax and soften after a few weeks of break-in. They will move easier at flex points and conform to your foot, fitting like a glove.
Returning Your Boots
If you've tried your boots on indoors and the fit isn't right, you may return them for a full refund. We accept online returns for all new, unused merchandise ordered on Danner.com and provide free return shipping on all orders placed within the United States.
Start Return
View our full Return Policy
Although many Danner styles are comfortable out of the box, it's good to plan for a certain amount of break in time during the first few weeks of wear.
After you've determined that your new boots are the correct fit, follow the tips below for breaking them in.
Wear them
The boots will soften and mold to your feet after some wear. Walk in them around your house or on short outings for a couple of hours per day for a week. Allow a bit longer for boots with thicker leather or stiffer components.
Condition them (full-grain leather only)
Full-grain leather boots tend to be stiffer compared to other materials when they're new. You can apply boot conditioner to speed up the leather softening process. Find conditioning instructions for full-grain leather here:
Full-Grain Leather Care Guide
Prevent friction
If you notice friction or hot spots during the break in period, products such as moleskin or blister pads can help protect your feet and prevent discomfort while your boots become more pliable.

Keeping your feet dry will also protect them from friction. Merino wool socks are helpful since they wick away moisture.
Boot stretch (leather only)
For any stubborn areas that are still uncomfortable after a few weeks of consistent wear, you can take them to a local cobbler or shoe repair shop for a boot stretch to have more room put in where needed.

If you're in the Portland, Oregon area, you can swing by our Recrafting center located in our Danner Factory Store for a boot stretch.

12021 NE Airport Way, Portland, OR 97220
(503) 251-1111
There are no products matching the selection.
---
Footwear Care Articles
Caring for your footwear will extend their life and keep them performing their best.